About Federal Home Loan Bank AHP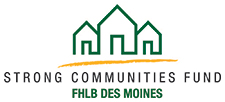 The Federal Home Loan Bank of Des Moines (FHLB) offers an "Affordable Housing Program" designed to assist in the development of affordable housing for low-income households. Habitat Iowa applies for this funding and administers this program on behalf of affiliates in the state. Funding is available on a first-come, first-serve basis. 
$9,998 per project is available for 30 newly constructed homes under the 2015A grant.  Strong preference will be given to projects that utilize either donated land and/or serve families with special needs. For more information about this program, download the FHLB Program Checklist below.
Contact our office at 515-266-6886 about using Federal Home Loan Bank funds.
Downloads: