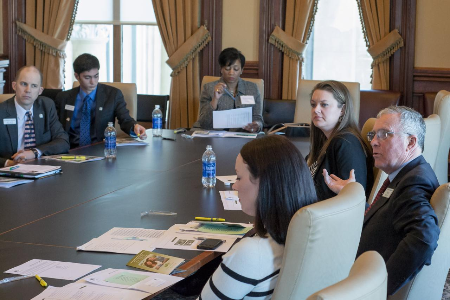 Why Habitat Is Needed, or some of the Advocacy Publications & Resources available from Habitat for Humanity International.
Read about Habitat for Humanity's greater than $24 million economic impact across the state in this 2011 report by the University of Iowa.
Our Legislative Priorities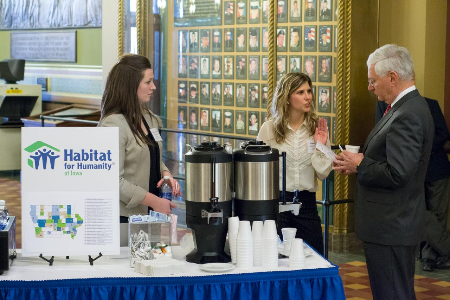 Find your Iowa state legislators here 
Visit our Advocacy Committee Page
Increase access and funding to affordable homeownership
Habitat Iowa affiliates are active in new house construction, critical home repairs, energy-efficiency and accessibility upgrades, homeowner education, ReStore, and much more to build up Iowa's homeowners and families. 
Expand Iowa's volunteer base
Support the Iowa Commission on Volunteer Service and other initiatives that promote volunteerism across the state.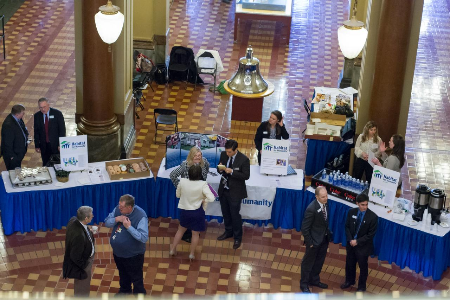 Through the Americorps State and National program in partnership with the Commission, Habitat Iowa generated 18,893 volunteers and facilitated 102,877 hours of community service in the latest program year.
Incentivize individuals & businesses to support homeownership
Support tax credits and other new forms of support to generate sustainable funding for affordable homeownership. New incentives are needed to address housing and will drive investment in Iowa communities.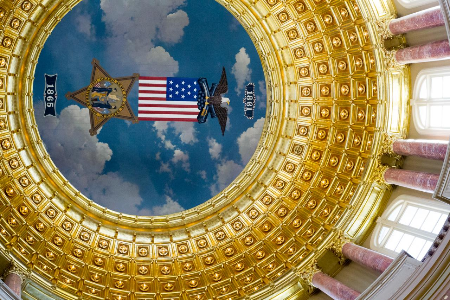 Invest in resilient communities
Support organizations that focus on collaboration between public and private entities to promote homeownership solutions. Support neighborhood revitalization, disaster preparedness, and other efforts to strengthen and rebuild communities hit by the economic recession, housing crisis, and other challenges.
Support Important Habitat Partners
Iowa Financial Authority
Iowa Commission on Volunteer Service
Iowa Prison Industries
Federal Home Loan Bank
USDA Rural Development
City and County Governments
Community Action Agencies
Regional Councils of Government
Take Action & Help Habitat
Visit Habitat for Humanity International's Government Relations Advocacy Action Center to learn about Habitat's national legislative priorities and send messages to your Congressional representatives.