What opportunities are available?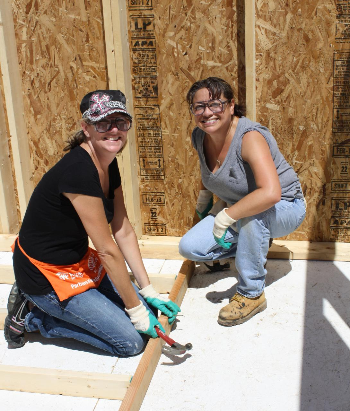 There are many ways to volunteer with Habitat for Humanity. The most common is to help on a build site. Construction volunteers help framing, roofing, drywall, painting, siding, and more.  
If you don't want to work on-site, volunteers often provide lunch on build days, work in Habitat ReStores, or help with office work like data entry, writing thank you letters to supporters, and other administrative tasks. Habitat welcomes all ages and abilities. 
In addition to on-site opportunities, local organizations need volunteers to serve on their board of directors, as well as committee members to help with both governance and operations. Common committees for volunteers to serve on include Family Selection, Family Support, Public Relations/Outreach, Fundraising/Development, and Construction.
Contact your local HFH affiliate
Join a Board of Directors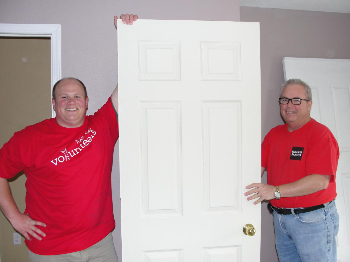 The State Support Organization is looking for business, nonprofit, and other partners to provide volunteer leadership to HFH affiliates. A great example is our partnership with Wells Fargo - when one of Iowa's HFH locations needs a banker on their board or to advise a committee, we work with the corporate office in Des Moines to find candidates at their branch location in that service area.
Want to learn more about joining the board of directors at a Habitat for Humanity affiliate, or volunteering in general? Use our online form!
Contact the State Organization here
Frequently Asked Questions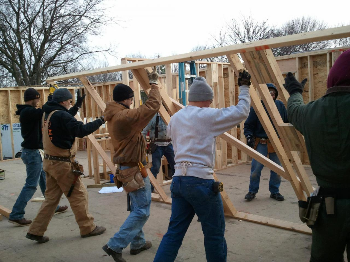 Do I need to sign up to volunteer?
You will often need to sign up in advance to volunteer. Please contact your local Habitat affiliate to ask what they prefer. If you have never volunteered with us before, you will need to fill out a Safety Release or Waiver.
What do I wear?
Wear appropriate clothing for the weather and the task for your volunteer day. For your safety, no open-toed shoes are allowed. Sunscreen is recommended if you are working outside. 
What do I bring?
Contact your local affiliate to see if they provide tools and safety equipment (usually yes). If you have them or prefer your own, don't forget to bring safety glasses. 
What should I expect for a build day? 
Each site varies, but here's a rough idea of what to expect:
7:45 AM
8:00 AM

Morning Devotion and Safety Meeting

8:10 AM
12:00 PM

Lunch Break (Lunch is Provided)

12:30 PM
4:00 PM
4:30 PM
What if I don't have previous construction experience?
Habitat does not require previous construction experience. Volunteers are divided up into teams and trained to do their task. A crew leader or site supervisor will teach you what you need to know to work safely and effectively. Habitat is a great place to learn DIY construction skills!

What if I do have previous construction experience?
Experienced volunteers are a blessing! We are always looking for Crew Leaders to help lead groups of volunteers, or to take on special tasks during the build.  If you are interested in being a Crew Leader, please contact your local affiliate volunteer or site coordinator for more details.

Who do I contact for more information?
Please check the "Where we Build" page for contact info for your local Iowa affiliate.